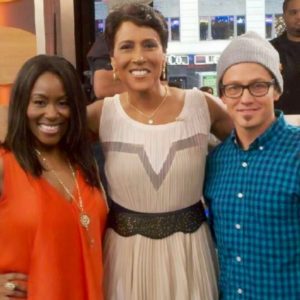 Hey everybody!
Right now I am probably sailing the ocean blue on "The Music Boat Cruise," so I asked my wonderful "web girl," Jess, to post about this while I'm away from computer access.
I have a GREAT idea! As you may know, on August 27th I appeared on "Good Morning America." Missed it? You can see links to my 2 interviews and performance of "Good Morning" with Tobymac, here. After my performance I gave GMA host Robin Roberts a copy of my latest CD "What If We Were Real." I knew that Robin had battled and beaten cancer, but had contracted MDS, a rare blood disorder. She would be heading out to get a bone marrow transplant later that week. I thought my song "Stronger" would encourage her. Well apparently it did! GMA has been playing both "Good Morning" and "Stronger" pretty regularly ever since! I am told that every time they give an update on Robin since her medical leave for the surgery and recovery, they play "Stronger!" How amazing is that? I love that God allows His Word and love to get out to millions of viewers of the most popular morning show on TV!
Robin began her medical leave on August 30 (yep! 2 days after we met). She left GMA a bit early to be with her ailing mother, who incidentally passed away shortly after seeing Robin and her family one last time. Robin has since completed her bone marrow transplant (her sister Sally-Ann was her donor). The first 30 days after the transplant were critical. Her body had to adjust to her new cells, but she came out with flying colors and has gone to her New York home. While she is doing well, the road to full recovery is far from over. The next 100 days after the surgery are vitally important. This is the period, her doctors say, for "the immune system to take hold and for her to regain her strength … she's got to rebuild in every sense." You can see more about her journey here. But something Robin said sparked this idea. She said:
I know it is your prayers and warm thoughts that have gotten me this far.  I truly feel them each and every day.  I humbly ask that you please continue to send them until you see me back at the GMA anchor desk and I promise to send them right back at ya.
That's when it hit me! Let's send her a scrapbook of written prayers! I know that many of us have been praying for Robin. If you care to participate, just reply to this blog with a paragraph or so of the prayers you are lifting up on her behalf. Here is an example of what I mean:
"O great Healer: Thank You for what You are doing in Robin's life! Thank you for all You have done in restoring her body to health. I humbly ask, Lord, that You continue the great work of healing in her life. I ask that as these next several weeks continue, that You align her new cells to complete wholeness. I also ask, Sweet Comforter, that in those difficult times when she feels alone, that she would feel Your strong and loving hands wrapping around her and giving her peace that passes understanding. I pray Your blessing on the medical staff that is aiding her, her sister Sally-Ann, and her entire family. Use this situation to draw Robin, those around her, and the GMA audience nearer to You, Heavenly Father. In Jesus' name. Amen"
Let the Holy Spirit guide you in what to pray. If you can figure out how to add a picture (I'm not really that tech-savvy)*, include a shot of yourself holding a sign that says "#TeamRobin." When I get home this weekend I will print off the prayers and compile them into a scrapbook. (I also plan to add a few other "goodies" that I hope will encourage her.) I'm looking forward to all that God will do through this project of blessing our sister in Christ! Okay. Ready? Set. GO!!!
*P.S. from Jess the webgirl: 3 ways to include a photo … post a link to your photo (maybe from photobucket or twitpic or Facebook); or "tweet" it and mention @webgirljess; or email it to web@mandisaofficial.com. Thank you!