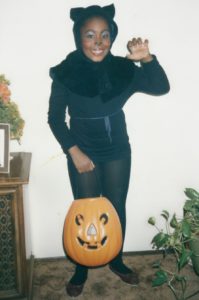 Yesterday, October 31, I posted a picture of myself dressed up as a cat on Facebook and Twitter. Wow! I wasn't prepared for what happened next!
First of all, let me say that this blog is not about whether Halloween should be celebrated as a Christian. There have been PLENTY of discussions about that. Let me also say that last night, October 31, I didn't go trick-or-treating, nor did I dress up. I sat at home in my pajamas and watched The Sing Off (Go Afro Blue, Pentatonix & Delilah!), and the premiere of Rock Center. It was quite a night.
But in 1984, when I was 8, I DID go trick-or-treating and I DID dress up…as a cat. Hence the photo I posted…from 27 years ago. I found it in my old pictures. I thought it was cute. So I posted it. The end.
I thought I'd get comments like "Too cute", "Meow" & "Adorable". And I did! But I also got comments like this one, "We should NOT celebrate halloween. I now question Mandisa."
What?! I stood on national television and forgave Simon Cowell citing that "Jesus died so that all of my sins could be forgiven so I can extend that same grace to you". I boldly sang the gospel song "Shackles (Praise You)" in front of 30 million viewers! And every weekend I stand on a stage singing all about Jesus being my Lord and Savior before thousands of attendees! But in 1984 my mom dressed me up as a cat and we asked my neighbors for candy so THAT makes someone question my walk with God? Argggg!
It came to my attention that Mark Hall, of the Christian band Casting Crowns, posted a picture of himself as The Incredible Hulk on his Facebook yesterday and over 3,000 comments followed. One of the commenters said they would not be able to listen to his music anymore. Really? I wonder which lyric is being brought into question? Is it "Seek justice, love mercy, walk humbly with your God" or "Living He loved me, dying He saved me and buried He carried my sins far away. Rising He justified freely forever. One day He's coming, oh, glorious day"! Or is the great offense of being a green comic book character really why this person cannot listen to such God-edifying music anymore? (It should also be noted that Mark later said that "[Hulk] was not a Halloween costume. I found it in storage today and put it on for this picture. Also we had fall festival at our church tonight and reached around 4000 people"…and then some people took issue with his church having a fall festival!
Again, I'll remind you that this blog is not about whether or not Halloween should be celebrated as a Christian. This is a disputable matter among Christians…hence all the disputes.
What this blog IS about is how we as Christians treat our fellow Christians. It's fine if you choose not to celebrate Halloween. But to question someone else's faith because they do is exactly what Paul wrote of in Romans 14 (below). In that day, the disputable matters were whether or not to eat meat sacrificed to idols or to treat certain days as more sacred than others. But Paul knew that Christians would not always agree on some issues in life. With many different walks of life & backgrounds, it's inevitable. However, the temptation to pass judgment upon the life or testimony of other individuals is clearly warned against. Not only does doing so break down unity among the body of Christ, it is also a bad witness to non-Christians. I shudder to think of what my non-Christian Facebook friends thought as they read some of the comments that were left. Ugh. I'm guessing they weren't impressed by the kindness and respect 1 Peter 3 says we should display before non-believers.
There will always be things I disagree about with other believers. And that's ok. But I will try to live my life in a way that shows respect to my fellow brothers and sisters in Christ, presents a good witness to non-believers, and honors the Lord.
1Welcome all the Lord's followers, even those whose faith is weak. Don't criticize them for having beliefs that are different from yours. 2Some think it is all right to eat anything, while those whose faith is weak will eat only vegetables. 3But you should not criticize others for eating or for not eating. After all, God welcomes everyone. 4What right do you have to criticize someone else's servants? Only their Lord can decide if they are doing right, and the Lord will make sure that they do right.5Some of the Lord's followers think one day is more important than another. Others think all days are the same. But each of you should make up your own mind. 6Any followers who count one day more important than another day do it to honor their Lord. And any followers who eat meat give thanks to God, just like the ones who don't eat meat.

7Whether we live or die, it must be for God, rather than for ourselves. 8Whether we live or die, it must be for the Lord. Alive or dead, we still belong to the Lord. 9This is because Christ died and rose to life, so that he would be the Lord of the dead and of the living. 10Why do you criticize other followers of the Lord? Why do you look down on them? The day is coming when God will judge all of us. 11In the Scriptures God says,

"I swear by my very life

that everyone will kneel down

and praise my name!"

12And so, each of us must give an account to God for what we do.

13We must stop judging others. We must also make up our minds not to upset anyone's faith. 14The Lord Jesus has made it clear to me that God considers all foods fit to eat. But if you think some foods are unfit to eat, then for you they are not fit.

15If you are hurting others by the foods you eat, you are not guided by love. Don't let your appetite destroy someone Christ died for. 16Don't let your right to eat bring shame to Christ. 17God's kingdom isn't about eating and drinking. It is about pleasing God, about living in peace, and about true happiness. All this comes from the Holy Spirit. 18If you serve Christ in this way, you will please God and be respected by people. 19We should try [a] to live at peace and help each other have a strong faith. 20Don't let your appetite destroy what God has done. All foods are fit to eat, but it is wrong to cause problems for others by what you eat. 21It is best not to eat meat or drink wine or do anything else that causes problems for other followers of the Lord. 22What you believe about these things should be kept between you and God. You are fortunate, if your actions don't make you have doubts. 23But if you do have doubts about what you eat, you are going against your beliefs. And you know that is wrong, because anything you do against your beliefs is sin.
Romans 14 (CEV)