If we have been Twitter friends for over 2 years you may have seen me use the hashtag #SingleAwarenessMoment more than once. Similarly, I would also refer February 14th as "Single Awareness Day" (aka S.A.D). These were terms that I used frequently, but last year God did a work in my life that led me to view my singleness differently. I was no longer sulking, asking, "why not me", and considering myself as incomplete because I was not married. Instead, I began to see myself, and this stage of life I am in from God's perspective. When I started doing that, my outlook changed! Don't get me wrong…there are still moments when I struggle as a 30+, never-been-married woman. The difference is that I am learning how to bring those feelings to Lord in prayer, and He is teaching me trust Him. He is also showing me the many benefits of being single (like being able to be completely devoted to Jesus in my time and money, or having my bed, Rufus all to myself!)
Since God has ushered me into this new landscape of freedom, I have expressed my feelings about my contentment in several ways. First, I recorded a song for my future husband and put it on my latest album, Overcomer. I wrote "Praying for You" with Chris August (and just to be clear, even though he is single, we are just friends!) LOL!

"Praying for You" (along with 14 other tracks) is also on this free #SingleAppreciation Spotify playlist I created. Let me know what you think!
In addition to music, I have also written a few blogs about being single: Here is one I wrote about how I pray for my husband specifically, and here is another I wrote for my friend, Priscilla Shirer's blog about how I am not only praying for "Mr. Right", but also working to become "Mrs. Right".
Last year I created a Galentines Event for single women. We had a blast! You can read some of the comments from those who attended or watched online here. I had hoped to make this an annual event and do it again this year, but my schedule got the better of me. I do hope to do some sort of live Ustream broadcast on Friday, though. I'll be in Minnesota for the Hits Deep Tour that night, so it'll depend on how good my wifi network will be there. Stay tuned…
In the meantime, I thought I would make this week #SingleAppreciationWeek for all of my single sisters and brothers out there. Be sure to check back for a new blog about being single each day this week leading up to "Single Appreciation Day"…oh wait! That still spells "S.A.D". Hmm…let me work on that! After you read the blog, leave a comment for a chance to win prizes that day! Hey! If married folks can give gifts to celebrate love, so can we! 😉
Each day I want to introduce you to one of my fabulous friends who is living life abundantly as a single woman…sorry fellas! I know you may want to hear from some guys, too. Try asking Chris August, Brandon Heath (even though he is engaged now), or Anthony Evans (I know what you're thinking, but nope…we're just friends, too!) to hook you up!
Today I want you to meet blogger, author, and all-around sassy sister, Mandy Hale, aka "The Single Woman"! I realize that "introduce" may not be the right word for many of you, considering she has almost 600 million Twitter followers and 700 million Facebook likes! Still, if you are not familiar with The Single Woman's awesome platform she uses to inspire single women to live their best lives and to never, ever settle, you can thank me later.
Right now, Mandy is counting down "14 Reasons to Celebrate Your Singleness this Valentine's Day" on her blog. Click here to read this (I love them all, but 11-14 are my favorites!)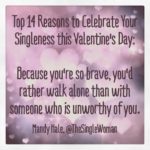 After you read Mandy's blog, come back here and leave a comment for a chance to win an ADVANCED copy of her new book, I've Never Been to Vegas, But My Luggage has: Mishaps and Miracles on the Road to Happily Ever After. It releases March 11, but Mandy will send the winner her book before you can even buy it! (And if you don't win, don't worry! You can pre-order your copy now. Just click on the title above! Or if you're hankering for something now, I can highly recommend her last book, The Single Woman: Life, Love, and a Dash of Sass.)
To win, or simply to share your heart, leave a comment about some ways you can focus on the many forms of love God offers us, regardless of our marital status this Valentine's Day. How are you feeling about this week? Are you content in your singleness, and if not, do you believe it is possible for you to be?
"I've learned by now to be quite content whatever my circumstances. I'm just as happy with little as with much, with much as with little. I've found the recipe for being happy whether full or hungry, hands full or hands empty. Whatever I have, wherever I am, I can make it through anything in the One who makes me who I am."-Philippians 4:11-13 (MSG)