I loved reading the comments so many of you posted on yesterday's blog! If you missed it, you can still read it here. And congratulations to the winner of The Single Woman's upcoming book, I've Never Been to Vegas, But My Luggage Has: Mishaps and Miracles on the Road to Happily Ever After. It releases March 11 so the rest of you can pre-order TSW's book by clicking the title above.
Today I thought we could talk about honoring our future spouse and our Heavenly Father during this season of singleness. There are a few ways I try to do this:
I live with honor by praying for my future husband. I may not know who he is, but God does. I can lift him up to our Creator and rest in the fact that God hears me and answers my pleas for him. When I pray for my future husband, I believe I am participating with God as He writes our love story. Furthermore, talk about a prayer of faith! Hebrews 11:6 says that faith pleases the Lord. Since I literally have no idea who I'm praying for, I know God is pleased with me! Ha! 😀
"But surely God has heard me; He has paid attention to the urgency of my request. May the True God be blessed, for He did not turn away from my prayer nor did He hold back His loyal love from me." Psalm 66:19-20 (The Voice)

I live with honor by seeking to become the woman God created me to be. I use 1 Corinthians 13:4-7, Colossians 3:1-17, and Galatians 5:13-23 as my guide for things to cultivate in or eliminate from my life.
I live with honor by walking in purity. Our culture would have us believe that living a pure and celibate life before marriage is impossible, unacceptable, and even a little kooky. But it's not! It is God's plan for each of His children. Not because He is holding something good from us, but because He knows the dangers living outside of His will.
"Hold marriage in high esteem, all of you, and keep the marriage bed pure because God will judge those who commit sexual sins." Hebrews 13:4 (The Voice)
Furthermore, God knows His original design for the sacred union of marriage and sex as a holy act between a husband and wife. His teaching to flee from sexual sin is out of protection for us:
"In marriage neither the husband nor the wife should act as if his or her body is private property—your bodies now belong to one another, and together they are whole." 1 Corinthians 7:4 (The Voice)
A few weeks ago, The Bachelor (season 17), Sean Lowe (who has been public about his faith in Jesus), and his then fiance (now wife), Catherine Giudici were very open about their celibacy. Late night host, Jimmy Kimmel just couldn't believe that they had been engaged for 14 months and had not had sex!
And for the record, they passed their polygraph test. See?
I don't want to make it seem like resisting temptation is easy. It's not; but by the power of the Holy Spirit, it is possible…and so worth it! Even if you have already had sex, God specializes in redemption and creating beauty from ashes. There is no condemnation in Christ Jesus. If you hear lies of shame picking up a stone and saying that it is too late, tell the devil to step off and tune your ears to hear Jesus whispering sweet messages of love, forgiveness, and grace to you right now.
"Jesus stood up and said to her, 'Woman, where are they? Has no one condemned you?' She said, 'No one, Lord.' And Jesus said, 'Neither do I condemn you; go, and from now on sin no more.'" John 8:10-11 (ESV)
To honor my future husband and my God, and as a follower of Christ, I am seeking to live a life worthy of that knowledge. So is my friend, Jaime Jamgochian. In a world where women are bombarded with images that try to brainwash us into believing that we are only as important as our bodies, Jaime's ministry, "Modest is Hottest" is designed to help young people take a stand against culture and live a Christ-filled life.

Find out more about Jaime, how to bring this event (or a new event that she and the friend I introduced to you on yesterday's blog, Mandy Hale) to your area, click here. And be sure to follow Jaime on Twitter and Facebook!
For today's giveaway I'm hooking someone up with one of Jaime's latest worship CDs, "Above the Noise" and one of her "Modest Is Hottest" shirts that I rock often!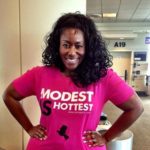 Just leave a comment sharing your thoughts on honoring God and/or your future spouse and I'll choose someone as the winner! Ready? Go!